How did I start making saucsa and jam in the cauldron?
Report made by TVR 1 within the show Viața Satului
Honest Romanian products 🇷🇴
For 10 years, together with the housewives from the village, headed by Aunt Veronica, we have been preparing goodies in a cauldron on a wood fire according to traditional recipes and artisan chocolate bean to bar.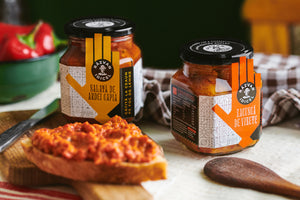 Food for the soul made in Transylvania
We only use quality and natural ingredients that we carefully select and prepare by hand with passion, in peace.
Discover the products
Our House: Idicel Village
Idicel is a mountain village, far away, and you have to reach the hills to actually feel, a wave of joy that hits you when you get here - from the hay, from the vegetation, from the fruit trees, from the forests , flocks, animals, and the absolutely gorgeous sunset.
Răzvan Rusu, founder
"We are a family business that started out of passion with the desire to make honest Romanian products with a unique taste. The wood fire and cauldron remain and will be the centerpiece of the kitchen. It is our way of preparing the products and we care a lot about this."
Am împlinit 10 ani de activitate! Aflați planurile noastre de extindere și rămâneți alături de noi în continuare.
Veți citi despre petrecerile aniversare de la Idicel și București, despre echipa care a făcut posibilă această poveste, dar și despre planurile de viitor ale brandului. Răzvan visează să construiască o fabrică nouă în satul Idicel pentru a duce mai departe tradiția, în timp ce susține comunitatea locală. În articol găsiți și fotografii de la evenimentele aniversare, precum și schița fabricii viitoare. Este o sărbătoare, dar și un nou început pentru Idicel Pădure. Aflați cum puteți rămâne aproape și a vă bucura împreună de produsele gustoase și de povestea lor.